Water Heater Repair San Diego
When you hear funny noises coming from the utility room, or your water starts to look rusty, smells strange, or simply never gets hot, you know it is time to get a check up for your water heater. However, you do not want just anyone coming into your home to do the work. You need a highly qualified company with the experience, equipment, and reputation you can trust to do the job well. Water heater repair in San Diego is quick and simple when you work with Tom DiNardo Plumbing.
We come fully prepared with a truck equipped with tools and products needed to handle any residential plumbing and water heater problem. This helps to guarantee that our visit will be quick, thorough, and accurate. Let us take a look at your water heater to determine the real problem that is occurring. We can then do what is needed to complete the repairs, or give you a professional recommendation for complete replacement.
Water Heater Solutions, Reasonably Priced
We value our customers time, money, and homes. That means that our services will be prompt and professional. We charge by the job instead of the hour, unlike most other companies. This only translates into more money saved by you, and a completely honest, up-front bill that never has any hidden charges. You can depend on us to give you an excellent water heater repair in San Diego without making a mess. We have an A+ rating with the Better Business Bureau for a reason. Let us show you first-hand why we stand proudly behind that rating.
Call Now for Great Service
Do not wait any longer than you have to getting honest, clean, and professional water heater repair in San Diego. Call us today!
Call 619-778-2148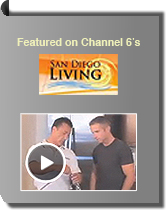 Watch: Tom's Plumbing Tips
Over 1000
Satisfied Customers
See Testimonials
Serving San Diego
Since 1998