Garbage Disposals San Diego
Garbage Disposals
It is amazing how much more efficient your kitchen becomes when you install a high quality garbage disposal to take care of the waste created by preparing meals for your family. Garbage Disposals in San Diego quickly and efficiently eliminate things like leftover potato peels, egg shells, fruit rinds, and other food waste by grinding it into tiny particles that easily are flushed into the sewer system without clogging your pipes. Let Tom DiNardo Plumbing help you improve the efficiency of your kitchen by helping you select and install the perfect garbage disposal.
Finding Perfect Solutions
Here at Tom DiNardo, we specialize in finding perfect plumbing solutions for residential properties only. That means that we know what it is like to live in a family home, and we have all the products and equipment needed to find you the solutions you need. We have the answers for families with any number of children, little or no cooking experience, and small to large sink areas. We simply have it all.
Ask us any questions you might have about the disposal that might be best for your home. We can help you find the solutions you need, and will do all the installation work for you at a price you can afford. Our friendly and professional technicians provide excellent customer service and treat your home with care, giving you every reason to depend on us for timely, quality service every time you call.
Efficient Service
We know your time is precious to you. To honor that, we promise a prompt service visit. You can expect to receive a courtesy call to explain the tardiness, should there be a delay in expected arrival time. San Diego residents like you can always expect a respectful and clean results. We will never leave a mess for you to clean up after we have left.
Always At Your Disposal
You can depend on Tom Dinardo Plumbing to pull through and get you the equipment, installation, and repair you need.
Call Us Now
For high quality garbage disposals in San Diego residential homes, Tom DiNardo Plumbing is the way to go. Call us today for more information.
Call 619-778-2148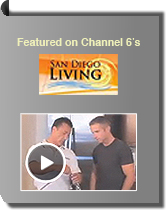 Watch: Tom's Plumbing Tips
Over 1000
Satisfied Customers
See Testimonials
Serving San Diego
Since 1998