Slab Leaks San Diego
Detecting and Repairing Slab Leaks
It iss a homeowners nightmare: suddenly stumbling onto a section of your floor or wall that is wet, warm, or uncharacteristically making strange noises. When you find something like this, it may be that somewhere in the wall or foundation, a pipe has been broken or eroded to the point that water is spilling into the home. This may be causing damage that must immediately be fixed. For problems with pipe problems and slab leaks in San Diego, count on no one else but Tom DiNardo Plumbing for efficient, thorough, and professional service.
Dealing With The Problem Professionally
Slab leaks in San Diego can be a huge problem, and must be addressed as quickly as possible by someone with the equipment and experience necessary to take care of it. As soon as you detect a possible issue, contact us at Tom DiNardo Plumbing as soon as you can. We can make an emergency call to your home to carefully inspect the symptoms and determine the best plan of action we should take.
As dealing with a slab leak can get messy when you start re-piping, we offer professional pipe inspection first, through the use of modern video technology. In this manner, we can quickly find the problem without having to pull out the wall. Then, when the issue is correctly diagnosed, we can then move forward to make the necessary changes to prevent further damage from occurring.
Clean, Honest Work
As our valued customer, you will never have to worry about hidden costs, untimely service, or poor quality inspection or repair. Our team of friendly technicians is well trained to do a job worthy of your time and money. It is our promise that you will always be 100% satisfied with our service, or the visit is free! Our technicians will always be on time and professional, keeping their work area clean so you never have to worry about a mess. Our trucks are also fully stocked with all the equipment we will need, in order to save you time and money.
24/7 Availability
Especially when it comes to things like slab leaks in San Diego, we want to make sure you have help right when you need it. That is exactly why we offer our services to you at any time, anywhere in the San Diego area. Call us 24/7, and you will be received by a real person who can help you get the services you need as quickly as possible. Contact us today for high-quality, professional service for slab leaks in your home.
Call 619-328-6418 » 24 HOURS A DAY–7 DAYS A WEEK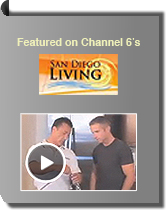 Watch: Tom's Plumbing Tips
Over 1000
Satisfied Customers
See Testimonials
Serving San Diego
Since 1998