Drain Cleaning San Diego
Exceptional Drain Cleaning Service
Every homeowner runs into a clogged drain at some time or other. In some instances, it is nothing more than a mere annoyance, but when things just will not clear up, you might be dealing with a larger issue that needs to be resolved to avoid further damage or inconvenience. At Tom DiNardo Plumbing, we offer our customers the highest quality drain cleaning in San Diego taking care of everything from those tiny annoying problems to the major issues that may potentially cause flooding and other damage within the home.
We have the years of experience and the modern equipment that is needed to do the job, and you can expect the best service. Because our company specializes in plumbing problems only, you can depend on us to have all of the tools and creativity it takes to get to the bottom of your plumbing issues and make them right without making a mess.
We Value Your Home
We are not the kind of business that is trying to get the most money for the least amount of work. We value the work we do, and we value the homes we do it in. Because of this, every member of our team believes in finishing the job well, without leaving any trace of their work process including things such as muddy footprints, dirty sinks or other marks on the wall. From start to finish, our team will do the job quickly, efficiently, and with special attention to cleanliness because we believe our customers deserve our very best work every time.
Call Us Now!
When it comes to drain cleaning in San Diego, you just can not find any better than Tom DiNardo Plumbing. Servicing the entire San Diego area, we offer you our best work at affordable prices. Call us now to schedule your next premium quality drain cleaning.
Call 619-778-2148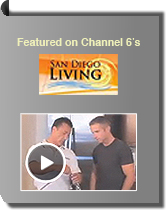 Watch: Tom's Plumbing Tips
Over 1000
Satisfied Customers
See Testimonials
Serving San Diego
Since 1998