Read What Some of our Satistied Customers Have to Say
"Complete honesty and integrity characterized our dealings with you and your company. Your company was far superior over other plumbing companies we've dealt with in the past. It made the difference."
-Kathy and Joe Beads
---
"...We were very pleased with the prompt service we received. Every concern was addressed with the greatest of ease. Just as you promised from the beginning, we now have piece of mind that all of our emergency shut-off valves in our home will work every time with just one easy turn. You took care of some minor problems before they turned into costly ones."
-Mr. and Mrs. Brown
---
"We just want to thank you and your company for the outstanding job you did in making our home a better place to live. Your technician was courteous, efficient and accomodating. This is the third job you've done for us and believe me, we will not only be calling you for future service, we will also pass the word to all out friends. We recommend your company without hesitation."
-Alan and Gina Goodwin
---
Do you have feedback for us? Please send your message to comments@tomdinardoplumbing.com




Call 619-778-2148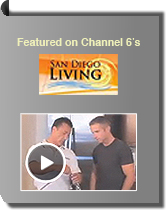 Watch: Tom's Plumbing Tips
Over 1000
Satisfied Customers
See Testimonials
Serving San Diego
Since 1998