Water Heater Installation San Diego
Every home needs a good water heater to have all of the conveniences that you deserve. In todays world, that means things like warm running water for showering, doing laundry, or simply a comfortable blast of warm air when the weather gets chilly. When your water heater gets old, starts to leak, or just is not working right, you need a company with professional experience and all the right tools to install a new one in the time and price range you deserve.
For top-quality service and products, look no further than Tom Dinardo Plumbing, your expert in residential water heater installation in San Diego. We do the job right the first time, saving you time and money. Let us earn your trust by providing you with the best service available in the San Diego area.
Premium Products
You never have to worry about the products we will bring into your home. A water heater, especially as a replacement for an older or inefficient model, needs to be something you can really depend on for the next few years. Whether your water heater is run on electricity or natural gas, we have the equipment and experience needed to replace it with a premium product you can rely on.
Our trucks are equipped with everything we might need, meaning that every visit will be as short and productive as possible. We come prepared with every tool we might need to make sure that your water heater is well-installed in no time. Let us help you get a more dependable, energy efficient, and reliable water heater into your home today.
Give Us A Call!
Give Tom DiNardo Plumbing a call to take care of all your water heater needs. For the best water heater installation San Diego has to offer, call Tom DiNardo Plumbing today.
Call 619-778-2148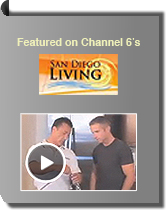 Watch: Tom's Plumbing Tips
Over 1000
Satisfied Customers
See Testimonials
Serving San Diego
Since 1998