San Diego Plumber
The Affordable San Diego Plumber Since 1998
If you want a plumber that specializes in residential plumbing services, Tom DiNardo Plumbing, Inc. is the way to go. At Tom DiNardo Plumbing, we value home ownership and provide our customers our best for all when it comes to San Diego plumber services. With over fifteen years of experience as a local San Diego plumber, Tom DiNardo has created his plumbing company based on the satisfaction of its customers.
Benefits of Choosing Tom DiNardo Plumbing as your local San Diego Plumber?
Benefits of Choosing Tom DiNardo Plumbing as your local San Diego Plumber? Aside from putting customer satisfaction as a top priority, there are many other benefits that you will experience when you call Tom DiNardo Plumbing, including:
Quality parts for every job we do.
A promise to be on time (or it's free up to $90.00).
Expert technicians who are highly trained for their trade.
24/7 phone reception by a real person.
Service that is focused on residential plumbing customers, giving you the most precise job.
An A+ rating with the BBB.
Fully stocked trucks to save you time and money.
Respectful technicians who leave your home just as clean as they found it.
The peace of mind knowing that your needs are being taken care of by local San Diego plumber that knows how to do the job right!
Our Services
At Tom DiNardo Plumbing, we offer a wide variety of residential plumbing services. As the best San Diego plumber, we can bring you
Water heater service, repair, and installation.
Drain cleaning services.
Pipe inspection through modern video technology.
Faucet installation and repair.
Garbage disposal servicing.
Sink services.
Sewer and other repipes.
Toilet repair and installation.
We are here to help you 24/7. Before your home plumbing situation gets out of hand, call us; we are your local San Diego Plumber (619) 328-6418 or 1-866-DINARDO.
Save Money with the leading residential San Diego Plumber, Tom Dinardo.


Call 619-328-6418 » 24 HOURS A DAY–7 DAYS A WEEK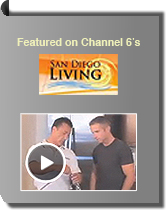 Watch: Tom's Plumbing Tips
Over 1000
Satisfied Customers
See Testimonials
Serving San Diego
Since 1998